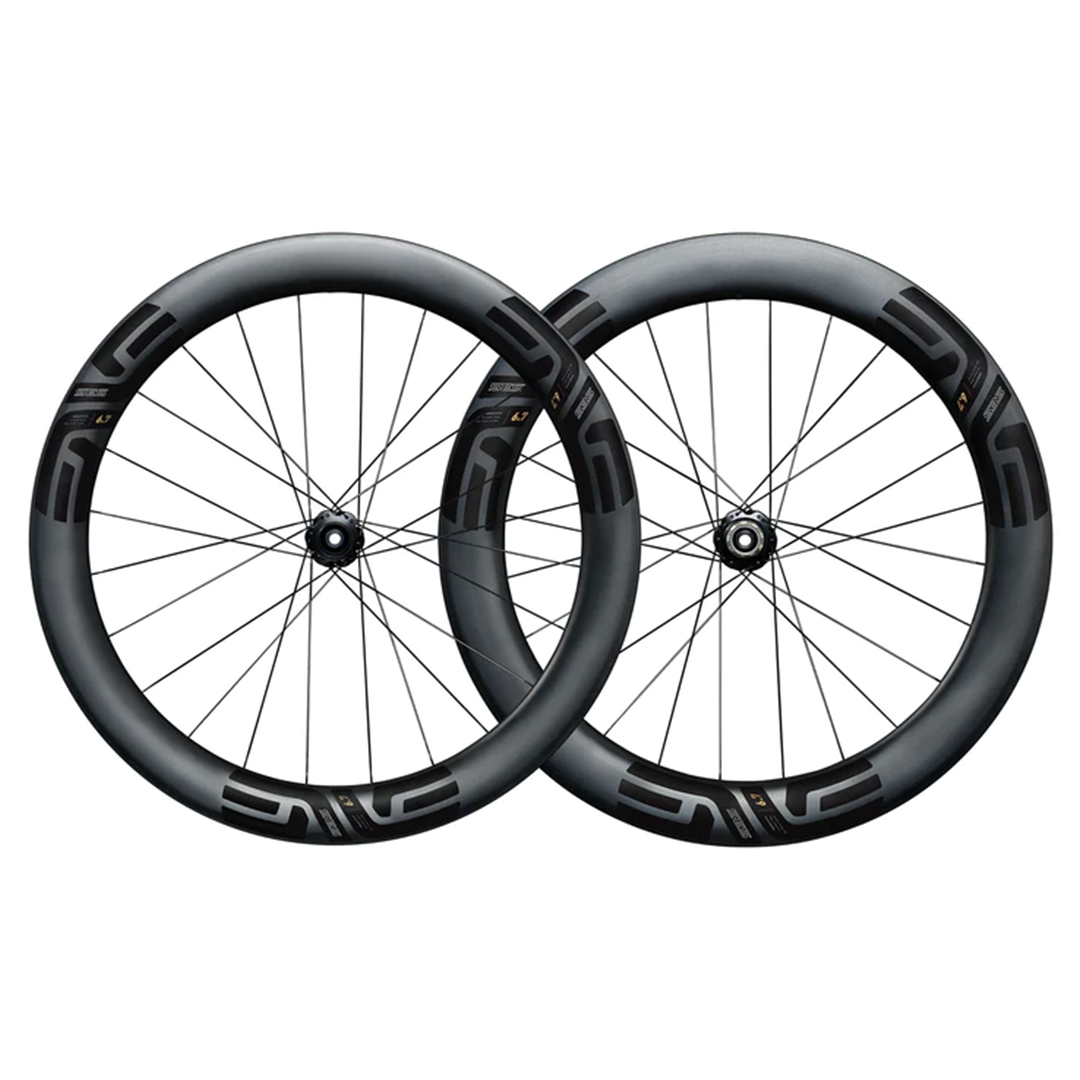 ENVE SES 6.7C Tubeless Disc Wheelset

people have just viewed this product
The SES 6.7 has been aerodynamically optimised around a labelled 27mm tire since data shows unequivocally that in real-world riding conditions, a higher volume tire provides more speed, confidence, and control. As such, we developed the SES 27 tire to be the high-volume race tire for the modern road cyclist. Featuring a 23mm internal rim width, the SES 6.7 can be paired with a 25mm tire, but for those wanting to decrease rolling resistance and maximise speed, a 27mm-28mm tire is the optimal labelled tire width.
Greater speed, comfort, grip, and puncture resistance. With the selection of a high-performance tyre at the right pressure, you can achieve lower rolling resistance and more speed. Tubeless also allows you to run much lower pressures for far greater comfort, traction and efficiency, especially over poor road surface all without sacrificing speed. The potential for a pinch flat and, with sealant, debris punctures is all but eliminated.
This Rim features a wide hookless bead that greatly reduces the likelihood of pinch flatting. The wide hookless bead technology works by providing a blunt surface upon which to bottom out the tire, dissipating energy across a larger surface area and preventing tire damage. This allows you to run the correct tire pressure without the worry of pinch flatting.
SPECIFICATIONS

DIAMETER: 700c
RIM DEPTH: 60/67mm
INNER RIM WIDTH: 23mm
HOLE COUNT: 24h
HUB: ENVE Premium
SPOKES: Sapim CX-Ray
NIPPLES: Brass Internal
AERO OPTIMISED TYRE WIDTH: 28mm
WEIGHT: 1497g
Crash Replacement & Warranty
At Pedal Mafia we believe everyone deserves a 2nd chance! That's why we're proud to offer any cyclist who crashes 'regardless of kit manufacturer' a chance to replace their damaged threads. Learn More.
ENVE SES 6.7C Tubeless Disc Wheelset